Download AktivFilter 3.3 Demo Edition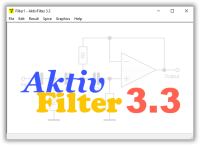 Compared to the full versions which you can purchase (AktivFilter 3.3 Personal Edition, AktivFilter 3.3 Professional Edition, AktivFilter 3.3 Student Edition) the AktivFilter 3.3 Demo Edition has some limitations:
Only opamps uA741, LF411 and ideal opamp are available.
You can only design high- and lowpassfilters up to 2nd order.
This software is freeware. Copy it and use it, wherever you like and whenever you like.
Latest version: 3.3.7, created 2023-05-07 (details can be found in the change description).
Filename: Setup_AktivFilter3_3_7_Demo_EN.msi, filesize: 635 kB
Download Counter AktivFilter 3.3: 3216
Download Counter AktivFilter 3.2: 3388
Download Counter AktivFilter 3.1: 2408
Download Counter AktivFilter 3: 2445
A hint to our customers
This download is only for the Demo Edition.
For updating your full version (Personal, Professional or Student Edition) please use the download address in your licence information!
The manual of AktivFilter 3.3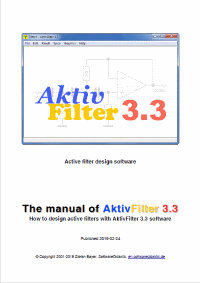 The english version of the AktivFilter 3.3 handbook is available for a free download. The PDF file contains a complete description of how to use our active filter design tool AktivFilter 3.3. The book can be printed and used for a full version as well as for the free AktivFilter 3.3 Demo Edition. Enjoy it!
The current version of the manual has been published on 2022-01-09. The filesize is 1178 kB.
Click the link with the right mouse key and choose "Save Target As...": The manual of AktivFilter 3.3
---
© Circuit Experts 2023
Imprint · Privacy Policy · Deutsch